Ibrahim's Message

The African Dream!
Nothing really pleases me most than to see help being geared towards underprivileged people. Africa is a continent rich with minerals and other natural resources but yet still millions of people are suffering from diseases and poverty.
I was very pleased to recently see the Clinton Hunter Development Initiative (CHDI) partnering with the governments of United Kingdom, Rwanda and Malawi, to strengthen education in Africa. In a continent where illiteracy rate is high, this partnership seeks to educate more than 200,000 children each year in Malawi and Rwanda. CHDI will invest $10 million to facilitate the design and construction of four teacher training facilities in these two African countries. 200 primary school teachers are expected to graduate each year.
In another development, The Hunter Foundation is to partner with UNICEF to support children whose lives have been affected by war and poverty in Kitgum, northern Uganda. THF's funding which amounts to £1m will be very instrumental in a region where standard of living is very low.
In May, the Kanu Heart Foundation sent me a commendation message which read: "Your mission is indeed a great one and we at the Kanu Heart Foundation wish you well in realizing your vision for Africa. As a Foundation, that helps African children receive life saving treatment for heart defects, we commend you on incorporation sport into your humanitarian work." Read Full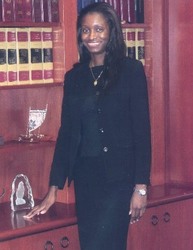 Miatta Dabo (sister)
Miatta is an Attorney, CPA, Model & Writer


Rebuilding Sierra Leone, and Africa as a whole, is a dream for many people. Millions are craving much-needed changes. Some people are diligently doing all they can to promote and encourage change, as well as create more awareness about some of the unfolding developments and burning issues in Africa. SaLonePikin website is geared towards such goals, and to serve as a source of vital information coming from Africa. Also, readers can post valuable comments on some of the burning issues at hand.

---